We love the holidays season for a number of reasons, but one of the ultimate highlights is the chance to exercise our creator brains while transforming our homes, porches, and mantles into pretty winter wonderlands. It's nice to create a sense of "hygee" for our families and guests, and we're always down for some decorating fun. When it comes to Christmas trees, it's hands down one of our favorite tasks to take on every December. While a Christmas tree can serve as a bearer of family memories, we've also recently fallen in love with the designer approach that can play a role in decking the halls for nights spent rockin' around the tree. Today, we're sharing the Best Designed Christmas Trees we've discovered yet!


1) Traditional Bling by Shonna Fox Design
Shonna, a Canadian-based designer, knows what's up when it comes to taking an evergreen from bland to beauty. Using the perfect combination of bigger bulbs, poinsettias, ribbon, beads and ornaments Shonna creates a beautiful tree that puts a nice spin on traditional without oversimplifying or going too over the top. A final positive aspect to note is that the tree skirt remains simple and neutral, meaning it doesn't distract from the main attraction!


Photo Credit: Shonna Fox Designs


2) Black & White Beauty by The Crafted Sparrow
If you're more a neutral decor lover, a monotone inspired Christmas tree is probably more along the lines of your style. We love this black and white beauty and the use of simple patterns (stripes, Aztek-inspired shapes, and gingham) paired with simple holiday greetings. The wooden snowflake used in place of a star only adds to the sweet simplicity of this tree.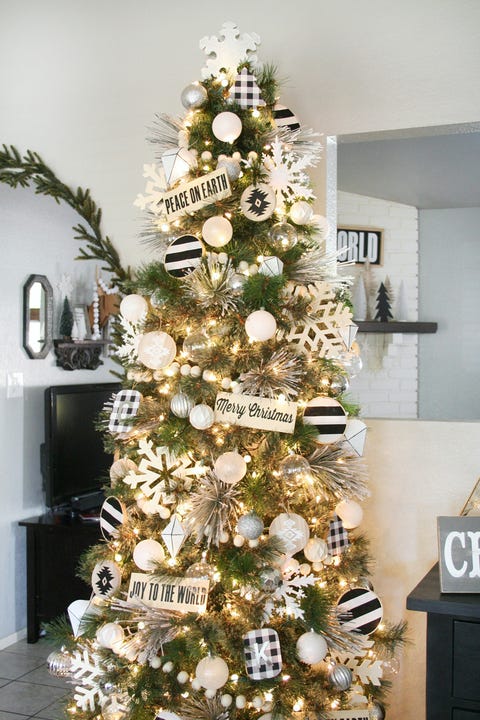 Photo Credit: The Crafted Sparrow


3) Colorful Goodness by Sugar Bee Crafts
Reside in a warmer climate that displays outdoor color year round? Or just a fan of bringing as much joy-filled color to your home even in the midst of winter's coldest days? Step outside of every Christmas tree decor tradition you've ever known by incorporating bright colors and florals. Use a metal wash basin for your stand and you've got every artist's dream tree in the heart of your living room! This tree by Sugar Bee Crafts is probably one of our favorites, ever.


Photo Credit: Sugar Bee Credits


4) Turquoise & Buffalo Plaid by Parties for Pennies
We love using non-traditional colors and accessories in our tree decorating, and this beauty by Parties for Pennies does not disappoint! The combination of buffalo plaid and fur ribbon paired with simple round ornaments, pops of gold, and white poinsettias is just about as perfect as you can get.

Photo Credit: Parties for Pennies

5) Pink & Chic Sophistication by Classy Clutter
If glam is your middle name and pink is your favorite color, this Christmas tree will be right up your alley! From the giant pink roses to the sweet pom poms in place of a star, we're pretty smitten with the entire thing. This would be the perfect tree for a feminine office or swanky/chic sitting room.

Photo Credit: Classy Clutter


We could go on and on about hundreds of other Christmas tree beauties, but these are the top five in our book! One of the primary keys behind making your tree designer-quality is the use of various textures, colors, and patterns to bring life and dimension. What about you? What is YOUR favorite way to decorate your Christmas tree? We would love to hear!