Pillow Insert Fill and Fabric Types
Pillow Filling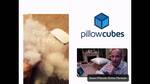 Our manufacturer focuses on little things like making sure the polyester filling or down filling is spread all the way to the corners of your pillow form.
This makes your pillow look fuller (thus better) once the form is inside your pillow case. This also means you don't have a big, round ball of polyester filling bunching up in the middle of your square pillow form.
Down Alternative Filled ( synthetic down )
How do we do it? We use a fiber that is nearly 1/10 of the "normal polyester" fill fibers. This gives you the "staying power" of a down pillow with all the benefits of a hypo-allergenic pillow. This pillow fill alternative is many times known as "synthetic down." This is a very popular non-allergenic down or feather fill option.
Down Feather Filled ( real goose down and duck feathers )
This is the luxurious option for most designers. The feathers, though you don't see them, are really quite beautiful. Not only are these forms comfortable, but they also keep their shape very well. We offer a 10/90, 25/75, and 50/50 option, with the first number representing down and the second number representing feathers. As the down content goes up, the form gets smoother, lighter, and warmer. However, these forms are not an option for someone who is allergic to feathers or down. Please note that down/feather pillows are lofty, not firm, and are designed to be shaped.
100% Polyester Filled
This is the most commonly used pillow filling. This option has the greatest density of any fiber we use. This is great for anyone with allergies as it is hypo-allergenic. This fiber is commonly used in indoor and outdoor applications. (However, we do not warrant our pillow forms for outdoor use.)
100% Recycled Eco-Friendly Fiber Filled
This green fill is made completely from recycled plastic bottles. Now you know what happens to some of those drink bottles you put in the recycle bin! This is the ultimate option for making Earth-friendly pillows for your home or office. It's also people friendly, as it's also hypo-allergenic.
---
Pillow Fabric Options
Feather-Proof 100% Cotton Fabric
We have all had it happen. Your down or feather filled furniture or apparel has a feather poke through the fabric. With down/feather pillow forms, we use a "feather-proof" fabric made of 100% cotton, with a 233-thread count. The result is a highly dense fabric that won't let feathers fly, but offers a super-soft feel to the touch. We use this fabric on all our down/feather fills.
Woven Polyester / Cotton Blend Fabric
We provide a blended fabric on most of our pillow forms for a softer feel and a good price. This blends will vary from 50%/50% to 60%/40% based on availability. We make no promise of what blend (within this range) your pillow forms will have. We use this fabric on polyester fills, as well as with our synthetic down fills.
Non-Woven 100% Polyester Fabric
We offer non-woven polyester on our higher volume pillow forms to suit our more cost-conscious buyers. The non-woven polyester is commonly used for pillows that may be used outdoors. This polyester is more durable than other materials when wet and dried. (We do not warrant our pillow forms for outdoor use.) We use this fabric on polyester and eco-friendly fills.
100% Unbleached Cotton Fabric
We take the green process all the way with a 200 threadcount 100% cotton fabric that is unbleached. Skipping the bleaching process lowers the amount of chemicals used in manufacturing and you can see the result with this off-white fabric. We use this fabric on our eco-friendly fills.
---
Pillow Sewing Techniques
We use what is called a "safety stitch" on all of our pillow forms. This means you have a single stitch on the inner seam and a serge seam on the outer seam. The result is that you'll find no little duck feathers (or other filling) waddling out onto your couch or bed.
---
100% American Made
Our Tennessee-based manufacturer ships your product straight from the hills of East Tennessee. All of our pillow forms are made by hand with commercial sewing machines. Yes, the "cut and sew operation" is still alive and well in America! We are proud to support American jobs in Tennessee.
---
Wholesale Prices
Check out our form for custom quotes on large or special orders.
We offer competitive pricing through purchase of cubes (cases) of our pillow forms. You do not need a wholesale or trade account. All of our discounts are based on quanity per order.
Who buys from us?
Consumers from small business owners to large corporate buyers.
Jobbers who make special pillows for furniture stores.
Designers who make custom, high-end pillows in smaller "just in time" batches.
Crafters and other consumers using our forms for personal use.
---
Timely Delivery
Most products, as expected from any wholesale supplier, will ship from our manufacturer within 48 business hours of placing your order on our website.
Our systems are integrated to provide immediate shipping and tracking information, from the manufacturer to your doorstep.
---
What to Expect
We understand that before your product arrives, you will want to know what to expect. With that in mind, we have made this silent pillow form box opening video. We hope this helps you understand exactly what you will get from your order. Feel free to share these videos with others and help everyone learn about our pillow inserts! (Please understand that we cannot guarantee forms will stay compressed during shipping, especially on small orders that don't fill the box.)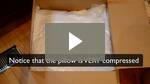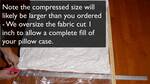 ---
Cleaning Instructions
For best results, we recommend that you Dry Clean your pillows, when cleaning is needed or desired. If you are concerned about dust mites, you can seal your pillow in a plastic bag and place in the freezer for 24-48 hours. If you just want to fluff or freshen your pillows, you can place them in the dryer on "air only" (no heat) along with one or two tennis balls for a cycle.
If you choose to use pillows outside (such as our Polyester Non-Woven forms), you can use the following method at the end of the season:
Remove your slipcover and launder according to the fabric's specifications.
Use the upholstery attachment on your vacuum to remove any loose, fine dirt.
Mix one teaspoon of dishwasher liquid with 4 cups of water, dip a sponge or cloth in the mixture, wring it out as much as possible, and wipe the pillow exterior.
Dry immediately (either on air in the dryer or with a low-heat hairdryer).
*Please note that we do not warrant our pillows for any cleaning methods beyond dry cleaning.