Customer Service & FAQ
---
Terms and Conditions of Ordering
Our pillow forms are made to order and are custom for you. Thus, we cannot accept returns or issue refunds once your order is processed. Please double check your cart for the correct sizes, fill types, quantities, and shipping address before submitting your order.
While our products are high-quality and well-inspected, we will replace your form with the same size and fill type if a manufacturing defect occurs.
Account Types
We do offer wholesale pricing for to many fine retailers, hospitality organizations and interior designers. We ask every customer to set up a (free) account on our website so that we know how to reach you with any questions about your order. (It will also help you to review past orders, track shipping details, and store multiple shipping addresses.) Then submit our wholesale application using the same email address as your account.
Choosing the Right Pillow
Check out our step-by-step guide to pillow selection. We also provide an overview of our products on our Learn page, and list all the details under each pillow insert. If you're ordering a bolster or box form, read special information on these forms.
Shipping & Delivery
***Please note that we only ship to the continental United States at this time***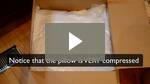 Methods of Shipping
UPS - Fewer than 26-32 Cases - Shipping is via UPS for most orders under a pallet in size. Pillow inserts may be shipped in two shipments in order to lower your shipping cost.
Trucking company - More than 26-32 Cases - If your order is greater than one pallet, your product may be shipped via truck.

20" sized pillows or less will fit 32 cases per pallet
Larger than 20" sized pillows will fit only 26 cases per pallet
If you mix and match sizes this may affect the amount of cases per pallet
Feel free to contact us for custom quotes on shipping for large orders
Please make sure that you can handle truck delivery for larger orders of pillow forms (such as a loading dock).
Processing Time
All of our pillows are made to order and shipping is direct from our factory to you.
Fewer than 100 Inserts - The normal time from order to ship is 48 business hours or less. Many smaller orders placed by noon Eastern Standard Time ship the same day.

More than 100 Inserts - Larger orders may require a build time. Any delays of more than 48 business hours will be communicated via our website portal.
Please check out our article, Pillow Form Shipping, to make sure you allow enough time to receive your custom made pillow forms.
Shipping Costs
It is expensive to ship pillows because of their size. While we welcome any size order, our best pricing occurs when ordering by the case and in small to large sizes. Extra large pillows (any dimension over 26 inches or any size box pillow) may not go through our vacuum process, so they have to ship in a large, expensive box. Likewise, single/small orders have to ship less efficiently, so shipping will be expensive. (Please note: We cannot guarantee that forms will stay compressed during shipping, especially on small orders that don't fill the box.)
Shipping Communication
We will comunicate tracking information about your pillow forms order to you via the website page and email. *Please note that we are NOT responsible for stolen packages. We recommend that you track your package and watch for it to be delivered.
Privacy & Security
We respect your privacy and never share any of your email addresses or data with others.
Your credit card numbers are kept secure during processing, are always encrypted, and are never available to our staff.
Returns and Replacements
We want you to be pleased with our pillow inserts. Our policy is to replace any product that is found to have a manufacturer's defect.
All of our products are of high quality, are well inspected, and are new. We only supply replacement products. Before you place your order, please understand that we do not process refunds as all pillows are made to order and are custom to you.
Please see our section on choosing the right pillow form.
Ordering our Pillow Forms
Ordering pillow forms and pillow inserts is easy and secure with our online shopping system.
We support Mac, PC, and mobile-device checkout.
We do not take orders by phone or fax.
Payment & Pricing for Large Orders
Payment can be made by any major credit card (MasterCard, Visa, Discover, American Express). We also accept payment by PayPal and Amazon Pay. Our parent company name, Agency Eagle (not PillowCubes.com), may appear on your statement.
Only one discount/coupon code may be used on each order.
Viewing your Pillow Orders
All of your pillow form orders are shown on our website portal system at PillowCubes.com
All shipping, tracking, and communications are handled via our online ordering system.
Updating Account Information
Please use the online portal to keep your address and contact information current on our website.
Double check all shipping addresses before submitting your pillow form order.
We do not update your information by phone.
All customer service is given by email and by posting messages in your portal page.
Thank you for allowing us to be your pillow forms supplier.