Customer Service & FAQ
---
Terms and Conditions of Ordering
Our pillow forms are made to order and are custom for you. Thus, we cannot accept returns or issue refunds once your order is processed. Please double check your cart for the correct sizes, fill types, quantities, and shipping address before submitting your order.
While our products are high-quality and well-inspected, we will replace your form with the same size and fill type if a manufacturing defect occurs.
Account Types
We do offer wholesale pricing for fine retailers, hospitality organizations, and interior designers. We ask every customer to set up a (free) account on our website so that we know how to reach you with any questions about your order. (It will also help you to review past orders, track shipping details, and store multiple shipping addresses.) Then submit our wholesale application using the same email address as your account.
Wholesale customers will have their wholesale discount combined with the quantity discount. As always, wholesale customers will see their unique pricing when logged in.
Choosing the Right Pillow
Check out our step-by-step guide to pillow selection. We also provide an overview of our products on our Learn page, and list all the details under each pillow insert. If you're ordering a bolster or box form, read special information on these forms.
Please also note that there are special things to consider with large pillows. Once you get to a pillow over 26 x 26, you run into these possible issues:
We may not be able to vacuum-seal the pillow, as it starts getting beyond our equipment's capabilities.
The pillow may have to be folded in order to fit in a shipping container.
Filling may shift or settle unevenly. Even with polyester inserts, you may have to fluff it up to spread the filling out evenly.
Why are the boxed pillows so fluffy at first?
When you first get a boxed pillow, you may need to hand fluff the fill out to the edges or use the pillow for a day or two. The filling will compress with use. If it's not filled completely (if we only fill them enough to make them flat on the top and bottom), they will be under-filled and will not retain their shape with any usage.
If you are looking for a boxed insert that is firm and completely flat, you would need a cut piece of foam. We do not offer any foam products at this time.
Cleaning Pillows
For best results, we recommend that you Dry Clean your pillows, when cleaning is needed or desired. If you are concerned about dust mites, you can seal your pillow in a plastic bag and place in the freezer for 24-48 hours. If you just want to fluff or freshen your pillows, you can place them in the dryer on "air only" (no heat) along with one or two tennis balls for a cycle.
If you choose to use pillows outside (such as our Polyester Non-Woven forms), you can use the following method at the end of the season:
Remove your slipcover and launder according to the fabric's specifications.
Use the upholstery attachment on your vacuum to remove any loose, fine dirt.
Mix one teaspoon of dishwasher liquid with 4 cups of water, dip a sponge or cloth in the mixture, wring it out as much as possible, and wipe the pillow exterior.
Dry immediately (either on air in the dryer or with a low-heat hairdryer)
*Please note that we do not warrant our pillows for any cleaning methods beyond dry cleaning.
Methods of Shipping
*Please note that we only ship to the continental United States at this time*
UPS - Fewer than 26-32 Cases - Shipping is via UPS for most orders under a pallet in size.
Trucking company - More than 26-32 Cases - If your order is greater than one pallet, your product may be shipped via truck.
20" sized pillows or less will fit 32 cases per pallet
Larger than 20" sized pillows will fit only 26 cases per pallet
If you mix and match sizes this may affect the amount of cases per pallet
Feel free to contact us for custom quotes on shipping for large orders
Please make sure that you can handle truck delivery for larger orders of pillow forms (such as a loading dock).
***Please be careful when opening your box. We have two sets of flaps (opening alternating directions) to keep your pillow forms as safe as possible. However, if you use a knife or box cutter with too deep of a blade, you could cut through both box layers and into your pillow. We
strongly

recommend using scissors to carefully cut the tape on the top sides, then lifting up the top flaps to cut the tape with scissors, so that you don't cut into your pillow.

Watch these two brief videos to see the best way to open our box and to see how compressed forms spring to life after removing from the plastic. (Please understand that we cannot guarantee forms will stay compressed during shipping, especially on small orders that don't fill the box.)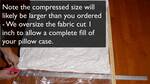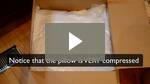 Will 2nd Day Air Guarantee my Pillows Arrive in Two Days?
Not necessarily. UPS 2nd Day Air is an expedited shipping service that guarantees your package will arrive within two business days from the date your package is shipped.
One thing to understand is order processing time. UPS 2nd Day Air does not expedite the processing of your order. If we receive a PillowCubes Premium insert small to medium order early in the day, we MAY be able to ship the same day. In this case, your 2nd Day Air package would arrive in two business days. However, small to medium orders are allowed up to two business days to be processed (aka making your pillows). Larger orders can take longer than two business days to complete processing. We frequently get orders out faster, but we cannot guarantee that. *Please note that our PC Jefferson decorative throw pillows go through a different process and generally ship within 5-7 business days.
Another thing to understand is what UPS defines as a business day. 2nd Day Air counts traditional business days, Monday through Friday and excluding major holidays. UPS recognizes the following holidays: New Year's Day, Easter, Memorial Day, Independence Day, Labor Day, Thanksgiving, Christmas, New Year's Day. For example, if we ship your order on Friday before Memorial Day, 2nd Day Air will guarantee delivery on the 2nd business day, which would be the Wednesday after Memorial Day.
For more details on shipping times to your area, please check out this blog article on shipping. We also welcome you to call before placing an order to get an estimate on processing and shipping times.
Shipping Costs
It is expensive to ship pillows because of their size. While we welcome any size order, our best pricing occurs when ordering by the case and in small to large sizes. Extra large pillows (any dimension over 26 inches or any size box pillow) may not go through our vacuum process, so they have to ship in a large, expensive box. Likewise, single/small orders have to ship less efficiently, so shipping will be expensive. (Please note: We cannot guarantee that forms will stay compressed during shipping, especially on small orders that don't fill the box.)
Shipping Communication
We will communicate tracking information about your pillow forms order to you via the website page and email. *Please note that we are NOT responsible for stolen packages. We recommend that you track your package and watch for it to be delivered.
Privacy & Security
We respect your privacy and never share any of your email addresses or data with others.
Your credit card numbers are kept secure during processing, are always encrypted, and are never available to our staff.
Returns and Replacements
We want you to be pleased with our pillow inserts. Our policy is to replace any product that is found to have a manufacturer's defect.
All of our products are of high quality, are well inspected, and are new. Before you place your order, please understand that we do not process refunds as all pillows are made to order and are custom to you.
Please see our section on choosing the right pillow form.
Ordering our Pillow Forms
Ordering is easy and secure with our online shopping system. We support Mac, PC, and mobile-device checkout.
We do not take orders by phone or fax and 100% payment is due before your order will be processed.
Payment & Pricing for Large Orders
Payment can be made by any major credit card (MasterCard, Visa, Discover, American Express). We also accept payment by PayPal and Amazon Pay. Our parent company name, Agency Eagle (not PillowCubes.com), may appear on your statement.
Discounts Codes or Coupon Codes
Only one discount/coupon code may be used on each order. However, your code can be combined with any applicable quantity or wholesale discounts.
Viewing your Pillow Orders
All of your pillow form orders are shown on our website portal system at PillowCubes.com as long as you are logged in when ordering.
All shipping, tracking, and communications are handled via our online ordering system.
Updating Account Information
Please use the online portal to keep your address and contact information current on our website.
Double check all shipping addresses before submitting your pillow form order.
We do not update your information by phone.
All customer service is given by email and by posting messages in your portal page.
Thank you for allowing us to be your pillow insert supplier!